Housings are designed and built to withstand vibration, shock, thermal challenges or different power requirements. The original design of the modules covers a wide range of voltage, capacity and size along with cell protection, safety and monitoring, which are specially designed for each application.
Our battery modules use our integrated Battery Management System (BMS) that monitors each individual cell in the module and ensures the balancing of the cells.
M3 Modules
The M3 module is assembled on an all new automated production and testing facility in Switzerland, which is designed to automotive industry standards. This production line can produce 11 times more modules than previously possible, with a capacity of more than 250 MWh per year. M3 modules include a battery management system (BMS) with functionally safe slave units which can take up to 24 cell measurements. The slave units run the diagnostics and communicate to the master BMS to ensure optimum safety and comprehensive monitoring.
Read more about our M3 Energy Module (GNMC, 60Ah), M3 Energy Module (GNMC, 65Ah) and M3 Power Module (LTO, 34Ah)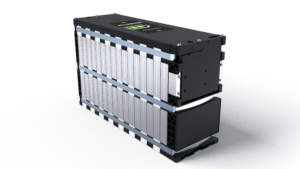 Read more about our G – NMC Energy M2 Modules and LTO Power M2 Modules.