Mon Oct 9
Guillaume Clement, vice president of Leclanché's eMarine business, recently celebrated his two year anniversary with the company. We took advantage of that milestone to ask him some questions about the industry and his views. By means of background, Guillaume is an experienced business strategy and international business development specialist, he enjoys more than two decades of industry experience including the six most recent years in the marine sector.
Q: You've been serving the marine industry in a variety of roles for some time now. Tell us why you enjoy this industry and what keeps it fresh for you?
Guillaume: "I enjoyed working in several other market segments before being exposed to the marine industry. The shipping and marine vessel industry is a very complex and international ecosystem. The collaboration between the various players is an invigorating challenge which requires deep knowledge, strong listening skills and a sincere commitment to the market. This combination of factors appeals to my personality and solution-selling orientation, especially in these times of huge transformation in the sustainable shipping industry."
Q: In terms of your current role at Leclanché, what have you been able to accomplish in the past two years?
Guillaume: "Leclanché is a more than 100-year-old battery maker so when I joined the company, I had no intention of teaching them how to build batteries. Indeed, the company's focus on performance, safety and sustainability was already very well developed with new technologies about to be released. My focus has been on developing a team that would embrace these values and communicate them throughout the marine Industry."
Q: What is the state of the maritime electrification market?
Guillaume: "In Europe, competencies and ambitions towards marine electrification are mature. Energy storage on board a ship has become an industry standard with deployment on many more types of vessels, applications and on a larger scale well underway. Those experiences are catching on in other parts of the world, including in North America, where we are seeing a strong acceleration of ship electrification and a quick expansion of our accessible market."
Q: From a competitive standpoint, how does Leclanché compare with others in the market?
Guillaume: "Being a true battery manufacturer, from patented production methodology to cell assembly and battery module manufacturing, creates an inherent unique identity from which we obtain and can deliver unmatched benefits. Our team controls the product roadmap, supply chain and cost, but even more importantly, our in-house knowledge allows us significant advantages for accurately sizing of engineered-to-order batteries."
Q: Are there particular challenges for retrofitting vessels?
Guillaume: "In marine applications, space is the main constraint, which is why a containerised integrated solution installed on most vessels' decks is considered. It influenced the design of our Navius MRS-3 system which was shaped to optimise its installation into a container. We've written many orders as a result."
Q: Leclanché's Navius MRS-3 is based on liquid-cooling technology. Why did the company go in this direction? Objectively, what are the benefits of liquid vs. air-cooled?
Guillaume: "Liquid-cooling brings some indisputable benefits such as better and more even cooling. It supports a longer lifespan and even aging of the cells and modules for more accurate sizing. Furthermore, our liquid-cooling design is up to 60% more efficient while maintenance costs are reduced. The overall system footprint is also diminished."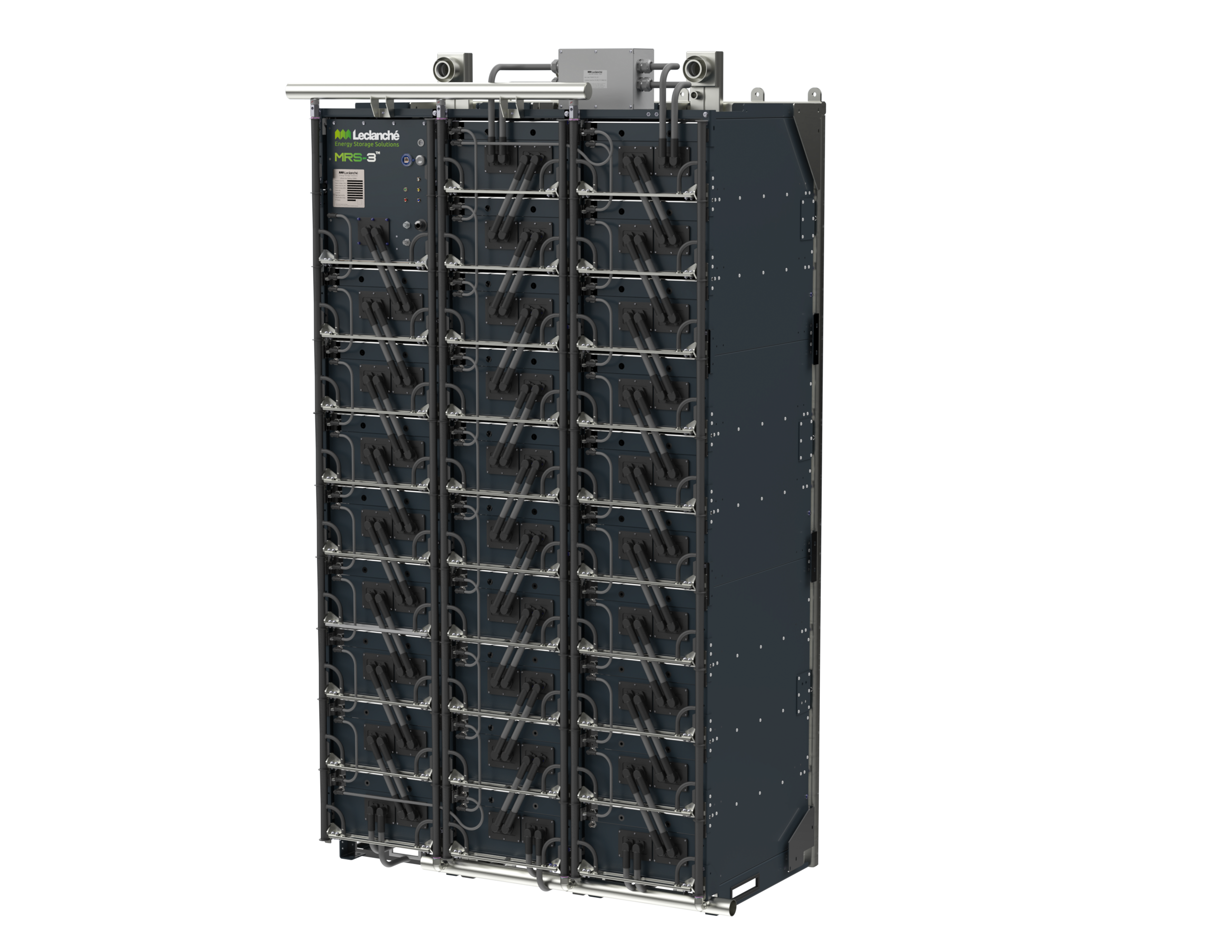 Q: When is liquid cooling the optimal choice for electrification?
Guillaume: "We are evangelists for liquid-cooling and its many benefits, such as extended battery life cycle, reduced carbon footprint and overall system efficiency. The case for liquid-cooling vs. air-cooling swings overwhelmingly to liquid when it comes to larger vessels and installations."
Q: Is there a "sweet spot" for integrators or shipyards in considering Leclanché as its battery storage system provider?
Guillaume: "Because we develop and manufacture the complete system, including the core technology and the chemistry, our basic designs are quite flexible and adaptable for many applications. Instead of having to sell one fixed solution like so many of our competitors, we are able to invite customers to reach out and discuss their project needs. Then, we are able to develop the best fit for their application, selecting from a range of in-house cells and battery designs."
Q: Leclanché boasts that it manufactures its own cells and modules in its European facilities. Why is that a benefit to customers?
Guillaume: "A fully integrated supply chain has multiple ripple effects in our products and benefits our customers. Manufacturing in Europe affords us greater control of all processes and components and provides a greater degree of security.  Our justified and optimised battery sizing saves both CAPEX and OPEX for ship owners. The fact that we design our systems to a higher level of safety than others, with a fully integrated battery active safety system and higher efficiency liquid-cooling systems are extremely valued by the market. Our unique water-based manufacturing process significantly reduces the carbon footprint of our equipment, making Leclanché a first choice for customers who are increasingly concerned about sustainability."
Q: Where is the industry going in terms of electrification? What changes will the next five years bring?
Guillaume: "Sustainability is no longer an option. Institutional and societal regulations are coming into force. Decarbonisation of the marine industry can be realised in multiple ways. Battery storage is one of them and has many benefits versus others because it is not only a proven technology but it is constantly improving with suppliers like Leclanché ready to deploy it at a larger scale. In addition, batteries are, and will remain, the enabler for many other promising sources of energy like hydrogen."
Q: Is Leclanché working on future enhancements to its product offerings?
Guillaume: "Yes; it is in Leclanché's DNA to continue striving for the best possible solutions by always innovating from the raw materials to cell packs, modules and racks. Our past and recent successes in the business are also strong sources of experience and inspiration for us in developing the battery of the future. Our latest G-NMCA water-based process cell demonstrates that our vision for performance, while improving safety and sustainability, is becoming a reality."